12 Valentine's Day marketing strategies in 2023
Looking to increase your sales through Valentine's Day marketing?
Flowers and chocolates belong to the yesteryears of Valentine's Day. In fact, in Asia, Valentine's Day is celebrated throughout different days of the year!
Still, love runs deep indeed in Asia, where the number of people celebrating Valentine's Day are increasing over the years. A 2019 survey by Milieu in Singapore and Thailand has shown that Valentine's Day is well-celebrated in both countries. While many folks who celebrate Valentine's Day are young couples yet to tie the knot (71%),  47% of married couples still celebrate Valentine's Day. Contrary to popular belief, more men celebrate Valentine's Day than women. In both Singapore and Thailand, 56% of men say they celebrate it, as compared to 44% of women.
While there is a popular belief in society that women are more susceptible to Valentine's Day marketing, the statistics here has shown that men may be more likely to feel the pressure of pampering their partners and celebrating this occasion of love.
Love Index, a survey by conducted by Mastercard has also shown that sentimental spending has increased by 22% since 2015, with overall transactions during the Valentine's Day period going up by 74 percent from 2015 to 2017. Many folks plan ahead for Valentine's Day purchases, and flowers and jewelry remain a hot favourite..
With such vast opportunities available, Valentine's Day marketing is important for any business's yearly marketing strategy, especially in 2023. This day dedicated to love and affection is a prime opportunity for businesses to reach out to their audience and show appreciation for their customers. Whether it's through special promotions, unique advertisements, or personalized experiences, the key to successful Valentine's Day marketing is understanding your audience and finding ways to appeal to their emotions. Here are 12 strategies you can try this Valentine's Day to show your customers some love and boost your business.
12 ideas for your Valentine's Day marketing campaign:
Take advantage of these 12 Valentine's Day marketing ideas to win more customers and increase sales in this round of love-themed spending.
Let's discuss these marketing tips in depth:
(1) Use targeted popups
Using targeted popups is a simple yet effective way to engage with customers during Valentine's Day. Popups can be used to offer special promotions or deals, ask customers to sign up for a newsletter, or provide a fun quiz related to the holiday.
The key to using popups effectively is making sure they are targeted to the right audience. For example, a clothing retailer might offer a special discount to customers who have shown an interest in clothing for special occasions. A bakery might use a popup to promote their special v-Day desserts. The goal is to provide a personalized experience that appeals to the customer's emotions and encourages them to take action.
Popups can be displayed on a website or social media platform and can be set to appear at a specific time or after a certain amount of time spent on the page. By using targeted popups, businesses can grab the attention of their audience and show them some love during the holiday.
An effective popup is like a perfect gift, bringing a smile to the customer's face and leaving a positive impression on the brand.
(2) Run a Valentine's Day Sale
Running a sale for Valentine's Day is a classic way to show your customers some love and bring in more business. It's like a love song or a love letter to them! You can offer discounts on specific products, bundle deals, or even buy-one-get-one-free promotions. For example, a jewelry store could offer a discount on couples' jewelry sets, while a florist might have a special deal on rose bouquets. The key to a successful sale is making sure your customers know about it and can easily find it. You can spread the love through personalized email marketing, social media ads, in-store signs, and more. A sale is an invitation for your customers to shop and save during the holiday, and it gives you the chance to gain new customers and strengthen your brand loyalty. Who wouldn't love that?
Not sure where to start with email marketing?
Check out 
GoDaddy Email Marketing
. With just a few clicks, you'll be sending out professional marketing emails and you'll get insights on how they performed.
(3) Offer your customers more benefits
Create partnerships with other businesses to create great gift bundles, or put together your own! Put a gift certificate in a box of chocolates or the envelope that goes with flowers. Include an extra bonus when you ship a package, like coupons for complimentary products.
Offering more benefits to customers during Valentine's Day is the perfect time to show your appreciation and encourage loyalty. This can include things like free gift wrapping, a complimentary gift with purchase (giveaway), or extended returns.
For example, a fashion retailer might offer free gift wrapping on all Valentine's Day purchases, while a tech company might offer a free accessory with the purchase of a new device. The key to offering more benefits is to understand what your customers value and finding ways to provide added value during the holiday. These benefits are like a warm hug from the brand, showing the customer that they are appreciated and valued. By offering more benefits, businesses can create a positive customer experience and increase the likelihood of repeat business. This is a simple yet effective way to show your customers some love during Valentine's Day and beyond.
Those little acts show your customers that you love them for more than just their money :)
(4) Make your delivery dates visible
As a business, it is important to make your delivery dates visible for Valentine's Day shopping. Customers want to know when they can expect their gifts to arrive, especially when they are purchasing something for a special occasion like Valentine's Day. By clearly displaying your delivery dates and options, customers can plan accordingly and avoid any disappointment or frustration. Valentine's day offerings can be:
Same-day delivery.
Expedited shipping.
Guaranteed delivery by a certain date.
By being transparent about your delivery dates, you can increase customer confidence and satisfaction, leading to a positive shopping experience. Think of it as offering a roadmap to your customers, helping them navigate their Valentine's Day shopping journey with ease.
Don't wait for the week of Valentine's Day to share your special offers. Help your customers avoid the stress of last-minute shopping.
(5) Promote relevant products
As a business, promoting relevant products for Valentine's Day is key to success during this holiday season. This involves highlighting items that are popular for gift-giving, such as chocolates, jewelry, flowers, and other romantic gifts. By focusing your marketing efforts on these items, you can draw in customers who are actively looking for gifts for their loved ones. For example, if you run a jewelry store, you could create a special Valentine's Day collection featuring heart-shaped pendants and couples' rings. If you sell flowers, consider offering unique bouquet arrangements for delivery or showcasing the history and symbolism of different flowers for Valentine's Day. By promoting relevant products, you can make shopping for Valentine's Day gifts easier and more enjoyable for your customers. It's like having a GPS that directs them to exactly what they're looking for.
With the easy-to-use GoDaddy Studio, you can create a full suite of promotional graphics, including images to use in your email marketing and social media ads.
(6) Offer gift guides
Curate some of your favorite products into a gift guide. You can use a mix of your own products and related retailers. Gift guides help your customers pick the right thing for hard-to-shop-for holidays like Valentine's Day. This is a great way to promote Valentine's Day if you're an affiliate marketer.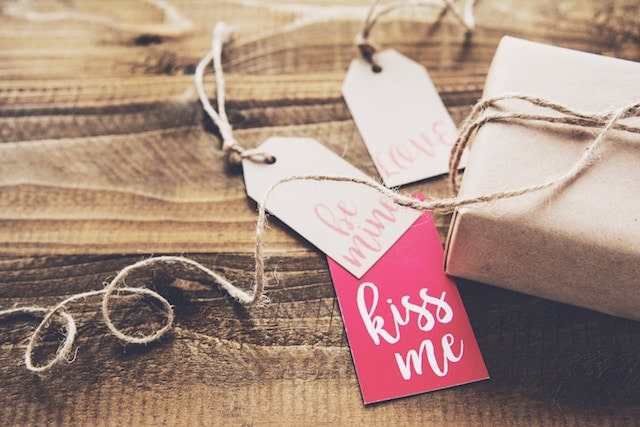 Offering gift guides as part of your valentine's day marketing strategy can be a great way to help shoppers make informed decisions. Think of it like a map for those looking for the perfect present. By highlighting a variety of gift options, you can cater to different tastes and budget ranges.
For example, a jewelry retailer could create a guide that showcases the top 10 most popular pieces in different price ranges, or a gourmet food store might create a guide that highlights gift baskets for different types of food lovers. The key is to make it easy for shoppers to find what they're looking for, and to make your products stand out as the perfect choice for a valentine's day gift.
With the right approach, a well-crafted gift guide can be a valuable tool for boosting sales and strengthening your brand's reputation.
(7) Drive urgency
As a marketer, you want your customers to feel the urge to make a purchase, especially around holidays like Valentine's Day. One effective strategy for driving urgency is to create a sense of limited time. For example, you can offer special discounts or promotions that are only available for a limited time or until stock runs out. Additionally, you can highlight the urgency of getting a gift in time for Valentine's Day. By creating a sense of scarcity, you can motivate customers to make a purchase sooner rather than later.
Holidays like Valentine's Day sometimes "sneak up" on shoppers, so it doesn't hurt to include a countdown motif with the messages.
Another way to drive urgency is by using social proof. Showcasing the popularity of a product by highlighting the number of purchases or positive reviews can increase the perception of its value and urgency to buy. Another effective way is to emphasize the uniqueness of your product and highlight that it is not available anywhere else. This creates an opportunity for the customers to get their hands on something special and rare before it is too late.
These techniques tap into the psychological triggers that motivate people to take action, so it's definitely worth exploring for your business.
(8) Target last minute shoppers
Invariably someone will be shopping for gifts at the last minute. You can help these procrastinators, too, by offering print-at-home gift certificates for future shopping or services, like a pedicure or massage.
These last minute shoppers may be just as interested in making the holiday special, but they need a push in the right direction. That's where your Valentine's Day marketing can come in.
One approach could be to offer expedited shipping options and highlight them in your marketing efforts. You can also create special promotions for these procrastinators, such as discounts for same-day delivery or in-store pickup. Think of it like a race against time, and your marketing can be the checkered flag that helps guide these shoppers to a successful finish.
Another approach could be to offer creative gift ideas for the procrastinator, like customized gift baskets or experience gifts that don't require shipping. By offering these alternatives, you can provide these shoppers with a sense of relief and satisfaction that they were able to find a meaningful gift despite the time crunch.
You can always offer gift cards to those customers to gift to their loved ones and save them the effort and time of choosing.
By offering them tailored solutions, you can help turn a potential missed opportunity into a win-win for both you and your customers.
(9) Redefine Valentine's Day
Here's where things get creative, make different packages for different shoppers. Valentine's day is not to celebrate love only couples share, it celebrates love in general. Here's a few campaign ideas:
(A) Romantic gifts
Valentine's Day is known as the realm of romantic relationships. Romantic gifts don't just have to mean flowers, candy or jewelry. Think of creative ways your product can be used to share love — like a special article of clothing, a spa day or even a piece of art for your significant other.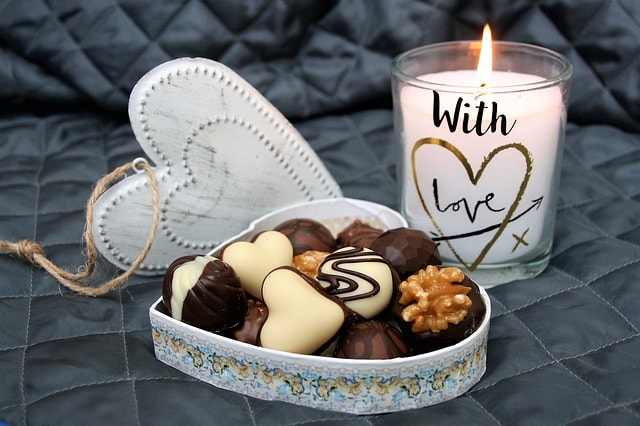 (B) Best friend gifts
There's love beyond just romantic love. There are few people that are there for us more than our best friends. Help your customers celebrate these special relationships with offers to share with friends. Consider buy-one-get-one offers that allow both the customer and the recipient to share in the gift, like two-for-one pedicures or cocktails.
Author's note: February 13th is galentine's day and it is when best friends exchange gifts.
(C) Parent-child gift
While there's Mother's Day in May and Father's Day in June (and arguably every day is "Kid's Day"), Valentine's Day is a special time for parents to show their love for their children, and children to show their parents how much they love each other. Valentine's Day is a sweet time to create memories for families.
Imagine as a dad or a mom, waking up to a valentine's day card from your child encouraging you to go on a date night with your significant other.
For restaurant owners, a valentine's themed brunch for the family can be a great idea.
(D) Furry friend gift.
Why should two-legged companions be the only ones getting treats on Valentine's Day? Whether it's a special grooming offer or special Valentine's Day themed treats, pet service providers can get in on the holiday of love with offers themed toward the love we have for our furry (or not so furry) companions.
(10) Appreciate your subscribers
Many customers want experiences more than they want gifts. Help your customers give unique, one-of-a-kind experiences like a do-it-yourself art class, a cooking event or a partner massage course. These events don't just build your sales over the holiday sales period, they also encourage referrals when your loyal customers talk about the amazing experience they had.
As an ecommerce business, Valentine's Day is a great opportunity to show appreciation to your subscribers. Think of them as your guests at a dinner party. Would you simply ignore them and let them sit at the table without attention? Of course not! You would make sure they feel welcomed, appreciated and valued. The same goes for your subscribers. They are a crucial part of your business and deserve to feel special.
One way to show appreciation is by offering exclusive discounts or promotions to your subscribers. Another way is by sending them a personalized email or message on Valentine's Day, wishing them a happy holiday and thanking them for their loyalty.
You can also give back to your subscribers by making a donation to a charitable cause on their behalf. This not only shows appreciation, but also positions your brand as one that cares about making a positive impact in the world.
Remember, a little love goes a long way, and your subscribers will appreciate the effort you make to show them how much you care. So, make this the best Valentine's Day, take the time to appreciate your subscribers and make them feel like the loved ones they are.
(11) Offer a Limited-Edition product
As a marketer, one way to add some extra excitement to your Valentine's Day marketing campaign is by offering a limited-edition product. Think of it as a rare gem, like a diamond, that people will want to get their hands on before it's gone. By limiting the availability of the product, you create a sense of urgency and make it a more appealing option for shoppers.
For example, you could release a special Valentine's Day product that's only available for a short time. Make sure to emphasize the limited nature of this new product in your marketing materials, such as "only 100 sets available!" This can drive sales and create a buzz around your brand.
Offering a limited-edition product can be a creative way to stand out during the Valentine's Day marketing rush.
(12) Encourage self-love and share your love for your customers
Sometimes the person who needs a bit of pampering the most in February is yourself. Position a few of your offers for the person who is ready to treat themselves — whether they're single or partnered up.
Not every business lends itself well to gift giving.
Offer discounts for your customers to purchase for themselves.
Give extra points or rewards for members of your loyalty program.
Provide bonuses for new referrals or sales from your affiliates.
Segment your email list to encourage people who haven't purchased recently to get them back with a subject line like "We miss you" or "Don't keep breaking our hearts."
Valentine's Day marketing is a great opportunity for small businesses
Valentine's Day is a holiday that presents a significant opportunity for businesses to reach out to customers and show their appreciation.
A well-executed marketing campaign can drive sales and build brand loyalty. Some of the key strategies to keep in mind when promoting your business during Valentine's Day include making your delivery dates visible, promoting relevant products, offering gift guides, driving urgency, targeting last-minute shoppers, appreciating your subscribers, and offering a limited-edition product.
It's important to be concise in your messaging and offer clear examples to help your target audience understand what you're offering.
With these strategies in mind, you'll be well on your way to a successful Valentine's Day marketing campaign.
Frequently asked questions (FAQs):
Here's a few answers to your frequently asked questions:
How do you market for Valentine's day?
As a marketer, Valentine's Day presents a unique opportunity to reach and connect with customers. To make the most of this holiday marketing effort, consider the following tips for a successful Valentine's Day marketing campaign:
Make your delivery dates visible.
Promote relevant products.
Drive urgency.
Target last minute shoppers. .
Appreciate your subscribers.
Offer a limited-edition product.
By following these tips, you can create a successful Valentine's Day marketing campaign that connects with your customers and drives sales.
What is the marketing slogan for Valentine's day?
Valentine's Day marketing is all about spreading love, happiness, and romance. When it comes to slogans, there is no one-size-fits-all solution. However, a memorable slogan that captures the essence of the holiday can be a great way to attract attention and engage with your audience. Some popular Valentine's Day slogans include:
Love is in the air
Make this Valentine's Day special
Say it with love
Celebrate love with us
The key to a successful Valentine's Day marketing campaign is to choose a slogan that speaks to your target audience and resonates with them. Think about your customers' needs, wants, and interests, and use that information to create a slogan that will appeal to them. Whether it's through a memorable tagline or creative imagery, make sure that your Valentine's Day marketing campaign is memorable and impactful.